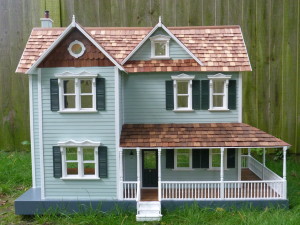 I work to individual client specifications, developing my ideas through drawings and photographs and using a diverse range of materials in a creative and innovative way.  Projects have included the design and construction of Georgian and Victorian houses, cottages, London town houses, a row of shops, a pub, a clock tower and castle with working portcullis!
My commissions can range from making a bespoke smoking chimney to designing and building your dream mansion from scratch. I love a good challenge.
All of my products are safe and suitable for children and collectors when built.
For further details contact me.